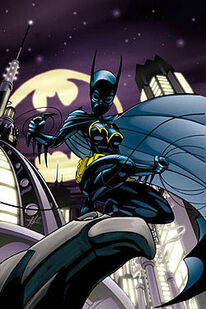 Cassandra Cain is the daughter of assassins David Cain and Lady Shiva, she was deprived of speech and human contact as a child as a part of her training to become the worlds greatest assassin. Cassandra grew up as an expert martial artist and she never learned social skills or how to talk. She was discovered by Batman and after Barbra Gordon was paralyzed, Cassandra replaced her as Batgirl. After serving with Batman she left and became a superhero known as Black Bat in Hong Kong.
Vital Information
Real Name: Cassandra Cain
Occupation: Student
Based in: Gotham City/ Hong Kong
Eyes: Green
Hair: Black
Height: 5 ft 7 in
Weight: 120 lbs
Attributes
No knowledge of speech
Extremely talented martial artist
Able to read body language and anticipate opponents next move
Ad blocker interference detected!
Wikia is a free-to-use site that makes money from advertising. We have a modified experience for viewers using ad blockers

Wikia is not accessible if you've made further modifications. Remove the custom ad blocker rule(s) and the page will load as expected.