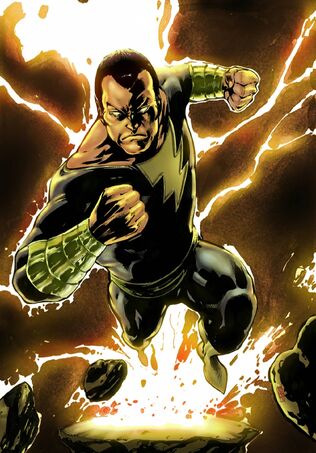 In 1200 BC the wizard Shazam became a high priest to the pharoah Ramses II of Egypt. As Shazam grew older he needed to find a succesor which he found in Teth-Adam, Ramses' son. Adam was granted the powers of the Egyptian gods and protected the people of Egypt for many years. After his soul was imprisoned and corrupted he was locked away for many years until the Batsons discovered his tomb in which he killed them which unknowing to him was his succesor's parents. Black Adam now focuses on destroying the world that he thinks cursed him.
Vital Facts
Real Name: Teth-Adam
Occupation: Professional Criminal
Base of Operations: Kahndaq
Eyes: Brown
Hair: Black
Height: 6 ft 3 in
Weight: 250 lbs
Attributes
Superhuman abilities including strength, speed, hearing, reflexes, and intellect
Magical abilities
Divine Grace which enhances his every aspect
Able to survive in any situation even in space
Invunerable
Teleportation
Ability to fly
Ability to heal himself and others with magic
Can learn any language instantly
Ad blocker interference detected!
Wikia is a free-to-use site that makes money from advertising. We have a modified experience for viewers using ad blockers

Wikia is not accessible if you've made further modifications. Remove the custom ad blocker rule(s) and the page will load as expected.