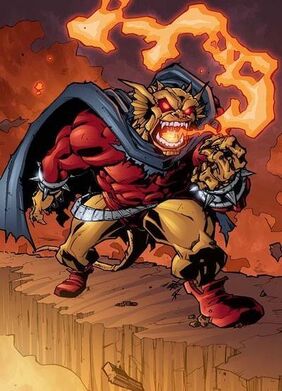 The demon Etrigan was summoned by Merlin to destroy the witch Morgaine le Fey, but when the war seemed hopeless Etrigan was sealed inside the body of Jason Blood who turned into the demon Etrigan at Merlin's call or by reciting the words
"Gone gone the form of man, rise the Demon Etrigan!"
Vital Facts
Real Name: Jason Blood
Occupation: N/A
Base of Operations: Hell
Eyes: Red
Hair: None
Height: 6 ft 4 in
Weight: 452 lbs
Attributes
Superhuman strength
Immortality
Able to spew fire from his hands and his mouth
Uses various spells to aprehend his enemies
Ad blocker interference detected!
Wikia is a free-to-use site that makes money from advertising. We have a modified experience for viewers using ad blockers

Wikia is not accessible if you've made further modifications. Remove the custom ad blocker rule(s) and the page will load as expected.