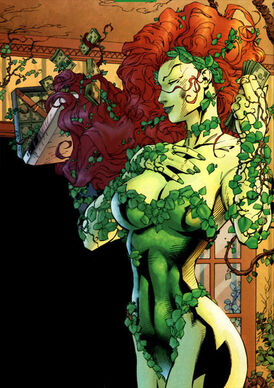 Botanist Pamela Isley was transformed into a plant-human hybrid by a science experiment gone wrong. With chlorophyll flowing through her veins insted of blood, she developed a toxic touch and pheromone-fueled talent for seduction. Her crimes have become more ecologically focused as she has increasingly abandonded her human side, identifying more with the natural world. Her unique brand of eco-terrorism often puts her into conflict with Batman, whose iron will usually protects him from her seductive powers

Vital Facts:
Real Name: Pamela Lillian Isely
Occupation: Professional Criminal
Base of Operations: Gotham City
Eyes: Green
Hair: Red
Height: 5 ft 8 in
Weight: 115 lbs
Attributes
An ability to encourage and direct the growth of all plant life
Plant genes mixed in with her human DNA make her an unpredictable and formidible physical opponent
Exudes natural pheromones that enables her to exert control over her victims
Skin secrets a toxin that can make her physical touch deadly
Pathological drive to rid the world of humanity and make it safe for plant life
Ad blocker interference detected!
Wikia is a free-to-use site that makes money from advertising. We have a modified experience for viewers using ad blockers

Wikia is not accessible if you've made further modifications. Remove the custom ad blocker rule(s) and the page will load as expected.