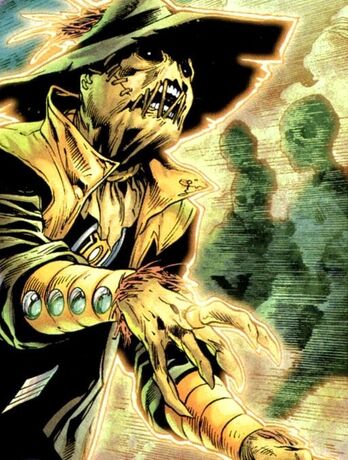 Taunted and bullied as a youth, Jonathan Crane vowed to overcome his fears through the study of psychology and biochemistry. Kicked out of his university for experimenting on human subjects, Crane then adopted the identity of the Scarecrow and armed himself with a specialized fear-inducing gas that makes a person's deepest fears and phobias become frighteningly real. His ongoing criminal reign of terror makes him one of Batman's most psychologically dangerous foes. After joining Sinestro's Yellow Lantern Corps, Scarecrow now wields a yellow ring of power and is the ultimate ruler of fear.

Vital Facts
Real Name: Jonathan Crane
Occupation: Professional Criminal
Base of Operations: Gotham City
Eyes: Blue
Hair: Brown
Height: 6 ft
Weight: 140 lbs
Attributes
Master of psychology and chemistry
Creator of fear-inducing gas
Motivated by an obsessive need to create fear in others
Wields a Yellow Ring of Fear
Ad blocker interference detected!
Wikia is a free-to-use site that makes money from advertising. We have a modified experience for viewers using ad blockers

Wikia is not accessible if you've made further modifications. Remove the custom ad blocker rule(s) and the page will load as expected.