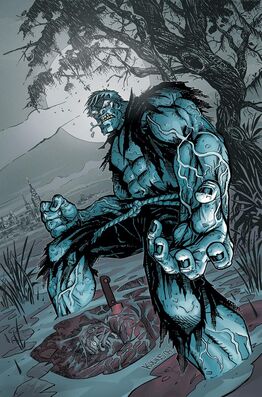 Over a century ago, murderer Cyrus Gold sought to escape justice by hiding in Slaighter Swamp, where he met a fate worse than death. Mysterious forces doomed the now immortal Grundy to an endless cycle of death and rebirth. Robbed of his memories, he adopted the name of a nursery rhyme, "Solomon Grundy, Born on a Monday, Christened on Tuesday, Married on Wendsday, Took ill on Thursday, Got worse on Friday, Died on Saturday, Buried on Sunday, This is the end of Solomon Grundy.

Vital Facts
Real Name: Cyrus Gold
Occupation: N/A
Based of Operations: Slaughter Swamp
Eyes: Grey
Hair: Grey
Height: Varies
Weight: Varies
Attributes
Each reincarnation makes him stronger
Incredible strength and resillience
Can never be truly killed
Ad blocker interference detected!
Wikia is a free-to-use site that makes money from advertising. We have a modified experience for viewers using ad blockers

Wikia is not accessible if you've made further modifications. Remove the custom ad blocker rule(s) and the page will load as expected.